Traffic Secrets Book Review: Is Russell's NEW Book Worth It?
Introduction
Every business needs TRAFFIC.
Whether you're a blogger, e-commerce store owner, course creator or affiliate marketer – no matter your industry – Traffic is what makes your online business survives.
It brings about the desired result and you can call it the final piece of the puzzle.
So how do you get your dream customers to your offers?
Do you have a solid plan and framework for traffic generation or you just publish and pray as most newbies do?
Well, this NEW book to be reviewed in this article aims to show you a practical way to drive MORE traffic, get more leads and sales to your online business.
What Is Traffic Secrets Book?
Traffic Secrets is a book that was created to help entrepreneurs like YOU get more of your dream customers into your websites and funnels.
In the book, you'll find proven strategies on how you can drive TRAFFIC to your websites and sales funnels to grow your online business.
In the words of the author of the book: "Traffic Secrets is a book that shows the simple process that we have used to get TENS OF MILLIONS of people to come to our sites every month. It contains simple strategies that any company could implement, even if they don't understand what traffic is."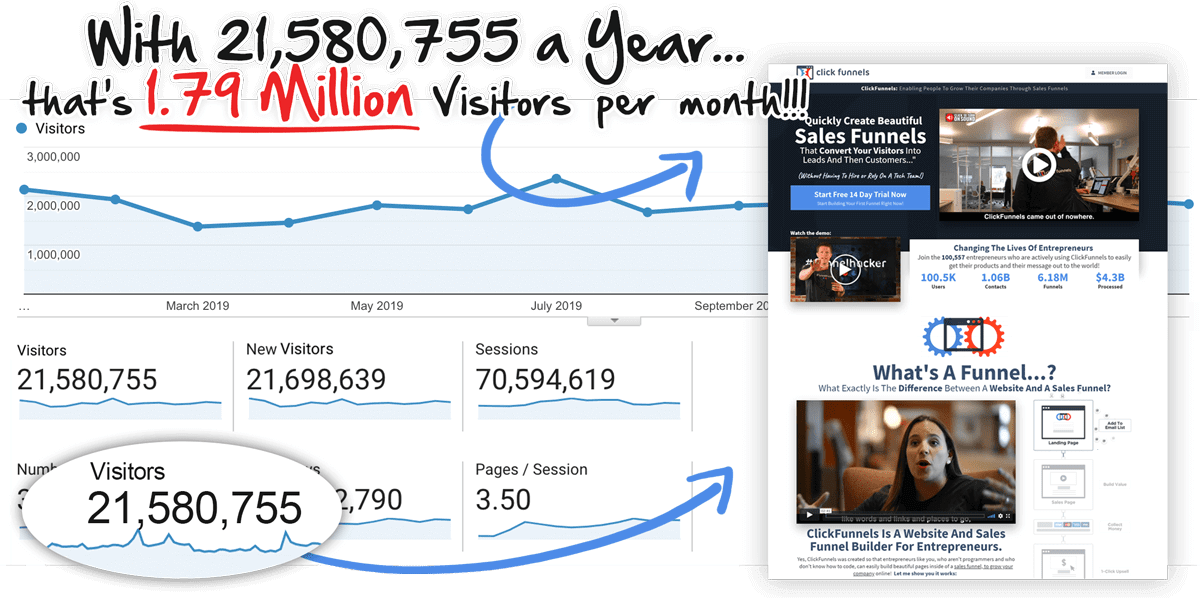 In fact, these strategies are responsible for generating traffic of around 1.79 Million visitors averagely to the main ClickFunnels website per month!
That is a whole LOT of traffic to just ONE website. Going further, let's take a look at the brain behind the book.
Who Wrote Traffic Secrets Book?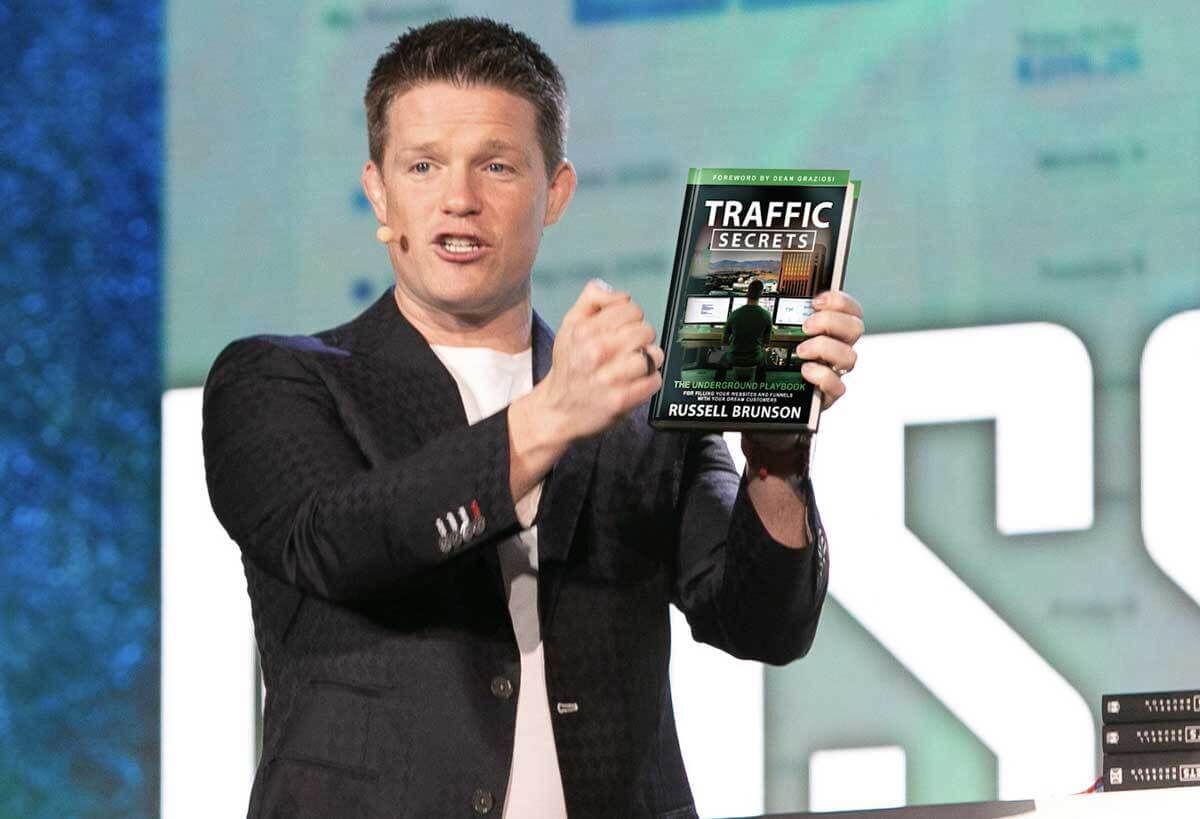 The Traffic Secrets book was written and authored by Russell Brunson.
Russell Brunson is the CEO and co-founder of ClickFunnels, a sales funnels builder software.
He is credited for popularising the concept of sales funnels and has written several best selling marketing books in the past such as DotCom Secrets, Expert Secrets, and Network Marketing Secrets.
The Traffic Secrets is the latest of his books. By the way, there's a Traffic Secrets course that largely inspired Russell to create this book. The Traffic Secrets course was originally created by John Reese.
John Reese is a legendary online marketer who made a record-breaking $1 million in about 18 hours by selling the Traffic Secrets membership course online.
The record was a big one for marketers and it inspired many online marketers including Russell.
Russell began to follow John closely and even modeled his strategies. It wasn't long before Russell offered John $1 million to purchase his Traffic Secrets course, after negotiations.
Russell bought the FULL rights to the full Traffic Secrets course (and all its content) and made the course available on the ClickFunnels membership site.
And going further, he brainstormed his own traffic strategies and poured it out for you in the NEW Traffic Secrets book.
How Much Is Traffic Secrets Book?

Just like every other awesome book from Russell, The Traffic Secrets book is a FREE plus shipping offer.
You don't have to pay for the actual book but only pay the cost of shipping to your desired location.
The shipping costs $9.95 if you're in the US and $19.95 for international orders.
Also, there are some mouth-watering upsells included.
Traffic Secrets Audiobook for $37
Traffic Secrets Live Event for $97
Box Set containing Traffic secrets, Dotcom Secrets (updated version), Experts Secrets (updated version) and Unlock the Secrets + OFA digital version for $197
Funnel Tracking Software for $397
Traffic Secrets Bonus
Here are some awesome BONUSES that you get when you grab a FREE copy of the Traffic Secrets book today.

Bonus #1 – Traffic Secrets Foundation
"How To Fill Your Funnels With Your Dream Customers!" (Total Value: $97.00)
This is 4+ hours of bonus training that you can start watching while you wait for your book to arrive. It contains a 60-minute presentation Russell did at Funnel Hacking LIVE event in front of 4,500 entrepreneurs like YOU – teaching a few of his FAVORITE 'Traffic Secrets" from the book.
Bonus #2 – The Ultimate Unfair Advantage
"How To Scale Your Traffic With Simple Videos From Your Smart Phone!" (Total Value: $97.00)
The next bonus is a presentation from Dean Graziosi, who actually wrote the foreword for the Traffic Secrets book!
As Russell was writing this book, he found out Dean was getting about 4X as much traffic to one of his funnels so Russell flew to Arizona so Dean can show him what they were doing differently.
It was a small tweak that was so simple to understand and Russell also made the change to his traffic strategy and saw an almost instant 4X increase in traffic. Russell asked Dean to come and speak at FHL and show everyone this secret, and this video is his full presentation!
Bonus #3 – How To Make A Video Go Viral
"How To Create Videos That Have Such Impact, People Have No Choice But To Share…"
(Total Value: $97.00)
The next bonus is from Prince EA who speaks about how he makes videos go VIRAL! He has over 3 BILLION views on his videos, and during this presentation, he breaks down the simple science of creating videos that can grow your brand and influence overnight!
Bonus #4 – The Ultimate Traffic Hack!
"How To Publish On Every Platform, Without Consuming Your Life…" (Total Value: $97.00)
Super affiliate and top traffic expert, Peng Joon gave a presentation called the "THE CONTENT MULTIPLIER" where he created 4 months worth of content in just 3 days! This shortcut will show you how you can fill your funnels with consistent traffic, in just 3 short days! This presentation will give you a shortcut that no one thought was possible before!
Bonus #5 – 30 Day Traffic Secrets Challenge!
"Learn How To Apply The Principles Of Traffic Secrets During The 30 Day Traffic Secrets Challenge!" (Total Value: $97.00)
After you read the Traffic Secrets book, the first question most people have is: "Where should I start?!" The answer is the 30 Day Traffic Secrets Challenge!
This challenge is a kickstart to get you moving forward quickly. It will give you a day-by-day roadmap to follow to get you from where you are today, to where you want to be!
Get All These Bonuses For FREE When You Order Your Copy Of Traffic Secrets Today!
Final Thoughts on Traffic Secrets Book
If you're still on the fence asking yourself: Should you get the Traffic Secrets book?
Are you selling anything online, trying to generate leads online or you are a business owner in any of these industries:
Coaching/Consulting
Local Small Business
​Info Products
​E-Commerce
Network Marketing
B2B
Non-Profit
​Agency/Freelancer
Blogging/Affiliate
If your answer is YES, then the Traffic Secrets Book has your name written all over it.
You'll learn how to turn on the faucet of traffic, and fill your website and funnels with your dream customers with these secrets!
These traffic secrets will help get more eyeballs on whatever it is you are selling!
Without traffic, you get no leads, no sales, and your business die a slow, cold death. That should not be the case with the RIGHT traffic strategies.
Traffic Secrets is guaranteed to be a game-changer for your business and will show you step-by-step on how to leverage all the myriad of traffic sources.
Order Traffic Secrets book by clicking HERE.