3 Best ClickFunnels Alternatives To Build Awesome Sales Funnels in 2021
Introduction
Sales funnels are an important asset for online marketers. To sell a product or services online, you need to create sales funnels.
They help you greatly in converting traffic and your audience into leads and leads into sales in no time. Sales funnel are well-optimized and would help your audience move forward in the buying process quicker.
However, to create sales funnels, you need a sales funnel builder. A tool that was built for that sole purpose.
You can create sales funnels with your website but the process could be pretty stressful and it can make your site appear too clumsy, thereby putting your audience off, increasing your bounce rate, and messing up your business in the long run.
So it usually not advised to create sales funnels on your website that can come with several problems.
In recent years, many tools and solutions have been built to help you build sales funnels for your business with little or no coding or design skills.
One of these solutions is ClickFunnels.
What is ClickFunnels?
Clickfunnels is a marketing software solution designed to help you build sales funnels and automate of your sales process with ease.
The platform allows you to build sales funnels, landing pages, webinars, opt-in pages to collect leads, membership sites and even run an e-commerce site.
Many online business owners, online marketers, and entrepreneurs make use of ClickFunnels to sell their products and services online.
However, ClickFunnels can be quite pricey for low budgeters at $99 per month (on the Startup plan) and $299 on the Platinum plan. And it's not only about the price, but a lot of users have complained about bugs in the software in the past.
These reasons and more would make you want to explore several other sales funnel building solutions asides from ClickFunnels.
And that's what I'll be going over in this ClickFunnels alternatives which are relatively cheaper and well optimized in this guide.
Let's dive right in and learn more about them!
#1: BuilderAll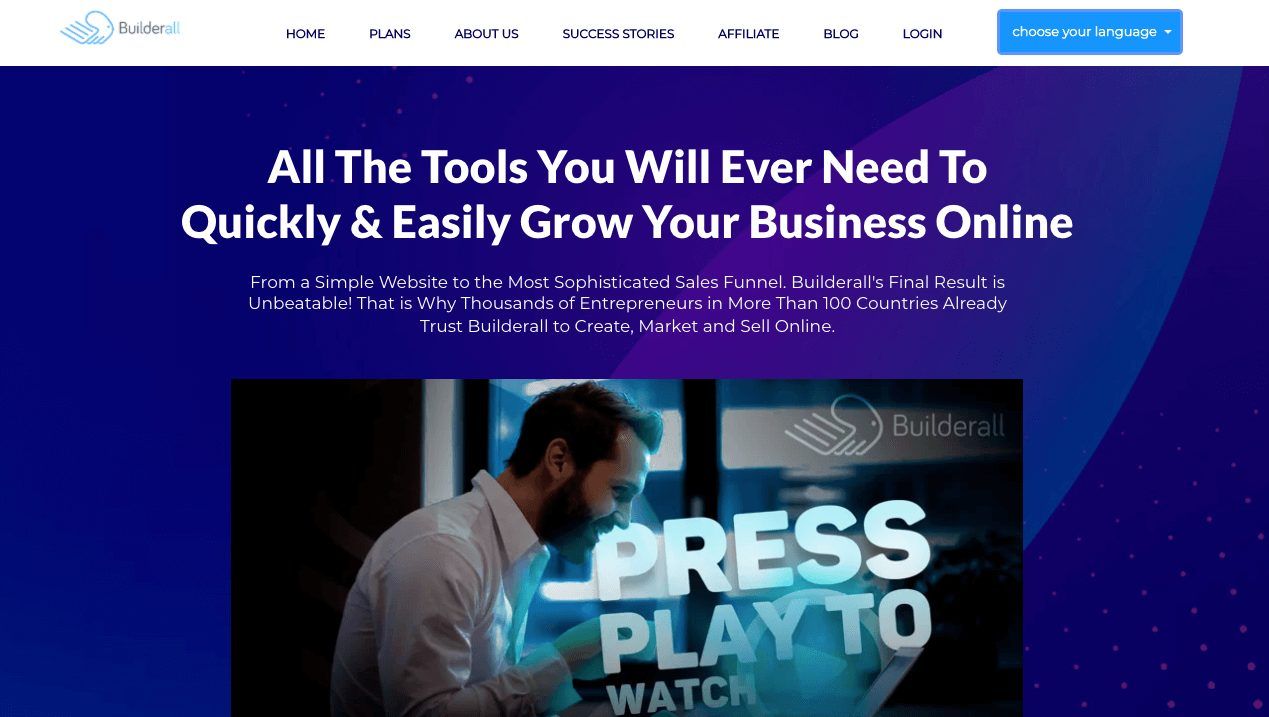 Builderall is a cloud-based, all-in-one platform digital marketing platform that allows you to build websites, landing pages, sales funnel, apps, and more to launch and grow your online business.
The platform was launched in 2017 by Erick Salgado and it helps you save money by having a bunch of marketing tools in one central place.
BuilderAll is suitable for entrepreneurs, online marketer, course creator, and anyone that runs an online business.
It comes with a ton of features plus, you don't need to download software into your computer to use BuilderAll. Plus, it's cloud-based and can be used online when you sign in.
BuilderAll Features
Here's a run-down of all the various tools and features you get on Builderall.
Dedicated Local Server
Builderall offers a dedicated local server in both plans. This makes it easy for marketers to host their website or build sales funnel pages. It also offers unlimited subdomain options for its users.
Drag and Drop Page Builder
Builderall allows users to build multiple landing pages on its platform, using the drag and drop option.
Using three different builder options (pixel perfect builder, the drag and drop responsive builder, and the mobile-first drag and drop builder), users can create landing pages that are well optimized for desktop, mobile devices, and tablets.
This helps to create a well-optimized business website for users. You can edit colors, texts, drag and drop different page elements, and add other elements across pages.
Sales Funnels & Page Templates
Several page templates are available on the platform for various niches.
It does not matter whether your business is in the finance, weight loss, health, travel, or fitness niche, Builderall has various page templates options that you can explore to build beautiful pages and funnels so your audience can have an enjoyable experience.
Once you select a template of your choice, you can then edit it to taste using the various builders mentioned above.
You literally do not need to be a web developer or have little coding skills to do this. Plus, if you are comfortable starting from scratch and want to put your skills to work, then you can build pages from scratch on the platform using blank templates.
You also get funnel templates on this platform and you can integrate with other tools such as checkouts forms and more.
Heat Map Tool
This tool allows you to track how your audience navigates and move around on your website or sales funnel. BuilderAll allows you to know the exact pages your audience is clicking the most and the most "call to action" buttons they click the most.
This would help your optimize your funnels and pages better and attract more customers. You don't get this feature in ClickFunnels and most funnel building software.
Floating Video & Presentation Builder
Floating Video is a tool on BuilderAll that allows you to upload a video that points your audience directly to what is showing in the background of your page.
Also, you get a powerpoint-like presentation tool to create presentations and help you grab your audience's attention, advertise your products and services better and get more sales.
MailingBoss (Email Marketing Tool)
This tool is useful for running email marketing campaigns on BuilderAll and it allows you to send emails to unlimited recipients at the same time.
A lot of other ClickFunnels alternatives don't come with their native email marketing tool. MailingBoss might not be the best email marketing tool in the market, is quite easy to use, and has the needed features you need to run email campaigns.
On-Page SEO
Builderall also provides a tool for you to do on-page SEO for your website and pages.
You are able to see SEO scores for your website or landing page SEO scores and get recommendations on the best strategies and what to do to better rank your site.
BuilderAll has several other interesting features which include membership sites, script generator, eCommerce store building, eLearning platform, App creator, Blog builders, and a lot more.
You'll get most of these features on the premium plan mostly.
BuilderAll Pricing
BuilderAll has five different pricing tiers with mouth-watering features and you get a 14 day FREE trial on each paid plan to test out the platform.
These plans are:
BuilderAll FREE Plan
You get the following features for FREE:
0 Domains
100 Subscribers
Ticketing Support
1 GB Disk Space
BuilderAll Builder Plan for $19.90 per month
On the Builder plan, here are the plans you get:
3 Domains
100 Subscribers
Ticketing & Live Chat Support
2 GB Disk Space
BuilderAll Marketer Plan for $29.90 per month
Here are the features you get on the Marketer plan:
5 Domains
5000 Subscribers
Ticketing & Live Chat Support
5 GB Disk Space
BuilderAll Essential Plan for $49.90 per month
Here are the features you get on the Essential plan:
10 Domains
15,000 Subscribers
Ticketing & Live Chat Support
10 GB Disk Space
BuilderAll Premium Plan for $69.90 per month
15 Domains
Unlimited Subscribers
Ticketing & Live Chat Support
10 GB Disk Space
List Import
Template Club
#2: GrooveFunnels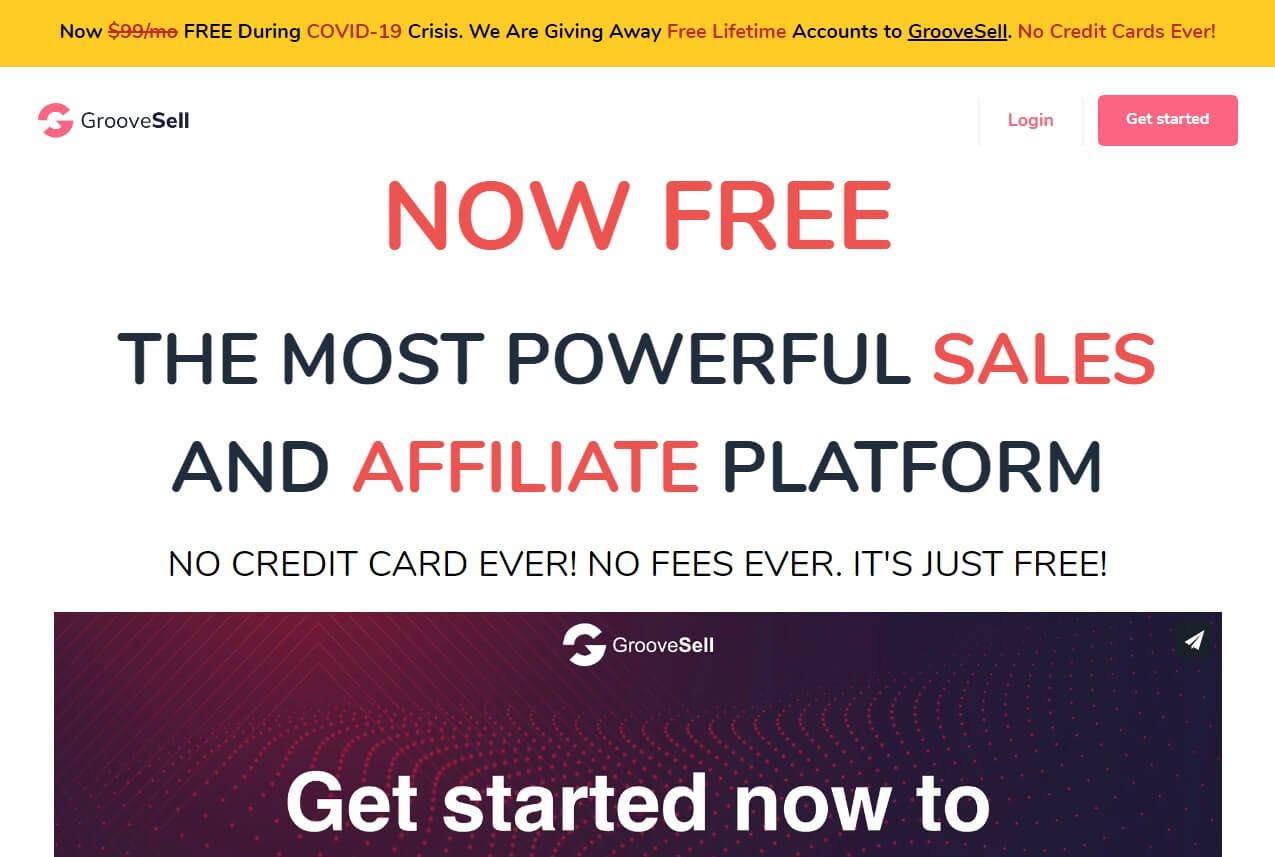 Groovefunnels is another ClickFunnels alternatives and has been hinted by many marketers as the ClickFunnels-killer.
The all-in-one marketing solution was recently launched by Mike Filsaime and comes with a ton of exciting tools which are:
GroovePages
GrooveSell
GrooveAffiliate
GrooveMail
GrooveVideo
GrooveMember
GrooveDesk
GrooveCalendar
GrooveBlog
GrooveSurvey
GrooveQuiz
GrooveWebinars for live and Automated Webinars
GroovePages for Shopify
Most of these tools have not been officially launched because the platform is still in the Beta phase.
For instance, GrooveMail, GrooveMember, and GrooveVideo will be released for use on 1st July 2020.
While GrooveWebinars and GrooveBlog will be released much later in the year and GrooveDesk, GrooveQuiz, and GrooveSurvey will also be released in the first quarter of 2021.
There is a free lifetime membership to everyone at the moment. Hence, online marketers and entrepreneurs who are just starting out and do not have enough budget to use ClickFunnels should consider jumping on this alternative.
GrooveFunnels Features
GrooveFunnels share some features with ClickFunnels and also have some more unique features which make it worth replacing the sales funnel builder.
GroovePages
Groovefunnels allows you to create and manage your funnels easily. You do not have to be a coder before you can create your sales funnel or pages on the platform.
Just as in ClickFunnels and even Builderall, GrooveFunnels offers you a variety of sales funnel templates for running your business.
You can build your own sales funnel using any of the several built-in templates and customize them to your business needs.
GrooveMember
This feature allows you to build a membership site and set exclusive access on different levels on the membership portal.
GrooveMember is suitable for online business owners and course creators that want to sell their knowledge online through online course options.
GrooveAffiliate
GrooveAffiliate helps you to manage affiliates for your products and services.
You can track affiliates, set commissions, on GrooveAffiliate. Unlike ClickFunnels, which uses a third-party platform to get this done, GrooveFunnels handles affiliate on its platform.
GrooveMail
GrooveFunnels offers you a complete email marketing tool called GrooveMail.
On this tool, you are able to create email campaigns, segment your leads, and schedule automated follow-up messages. Compared to ClickFunnels, where you only get this feature (Follow-up Funnels) on the Platinum plan at $297 per month.
Affiliate Program
GrooveFunnels has an excellent referral program along with a two-tier commission system. This allows users to earn more when they refer an active member to the platform.
For those operating a free account, a 20% commission is available for tier-one referrals and 5% for tier two referral. However, paid members can get enjoy a 40% commission for tier-one members and 10% commission for tier two members.
ClickFunnels also has an affiliate program but they don't have a two-tier commission system. Affiliates enjoy a 20% commission on referred active members, which can later increase to 40%.
GrooveDesk
GrooveFunnels has a dedicated support app for its users called GrooveDesk.
This app is the support system and is quite prompt in responding to customer's needs. Clickfunnels' customer support can sometimes be slow and annoying.
Community
Although Clickfunnels might have a much larger online community, comparing the ages of both platforms, GrooveFunnels has the fastest growing online community. They have recorded over 75,000 users since its inception and also have massive members on their Facebook group.
GrooveVideo
GrooveFunnels has a video hosting that allows you to host all your marketing videos online.
GrooveVideo is a recently launched feature that supports video hosting and allows you to add tags and call-to-action on videos.
This replaces a paid Vimeo or Wistia account which you don't get on ClickFunnels.
GrooveBlog
This tool allows you to create blogs on GrooveFunnels and it works just like the WordPress blogging platform.
You use GrooveBlog to create your blog, publish content, optimize it for search engines, and even integrate with other GrooveFunnels tools such as GroovePages and GrooveMail.
GrooveFunnels has some other built-in tools and integrations that help your pages to load faster and rank better on Google. It allows you to upload unique content on your blog, hence improving it to be SEO-friendly.
GrooveFunnels Pricing
GrooveFunnels has some more exciting features which will be launched as we progress.
There are three GrooveFunnels pricing options along with a FREE forever plan and a lifetime offer here's how much you get to pay for each of them:
You have the GrooveFunnels Silver plan ($99 per month), GrooveFunnels Gold plan ($199 per month), GrooveFunnels Platinum plan ($299 per month) and the GrooveFunnels FREE plan.
GrooveFunnels FREE Plan
You get to use some tools on GrooveFunnels for free as a subscriber to the GrooveFunnels free plan.
This means you can only sell products, promote other products as an affiliate, and create up to 3 pages on the free plan.
Plus, you can only earn a 20% affiliate commission on this plan as a GrooveFunnels affiliate.
These tools include:
GrooveSell
GroovePages (Lite)
GrooveAffiliate
GrooveFunnels Silver for $99 per month
On the Silver plan, you get access to the following tools:
GroovePages (Pro)
GrooveSell
GrooveAffiliate
GrooveMail
GrooveMember
GrooveVideo
GrooveFunnels Gold Plan for $199 per month
You get all tools in GrooveFunnels Silver Plan along with the following GrooveFunnels tools:
GrooveBlog
GrooveDesk
GrooveCalendar
GrooveSurvey
GrooveQuiz
GrooveFunnels Platinum Plan for $299 per month
This is the third plan and you get access to all the tools in GrooveFunnels Gold Plan along with:
GrooveWebinars (Live)
GrooveWebinars (Automated)
GroovePages for Shopify
GrooveFunnels Platinum Lifetime Deal
GrooveFunnels has a lifetime deal where you can buy the entire GrooveFunnels suite of tools in a one-time payment. You will get future updates and upgrades for a one-time price or monthly payments spread across several months.
This deal will NOT be available forever and will be for only a short while so you better hurry especially if you want GrooveFunnels for a long time.
Here's the pricing structure of the GrooveFunnels lifetime deal:
3-Month Payment Plan
You pay $497 per month for 3 months ONLY for a lifetime deal (makes $1491 in total) after a free 14-day trial today.
6-Month Payment Plan
For 6 months, you pay $288 per month for 6 months only (makes $1728 in total) after your free 14-day trial.
12-Month Payment Plan
This lifetime deal allows you to pay $188 in a 12-month duration (makes $2256 in total) and you can enjoy GrooveFunnels forever with future updates and upgrades.
1-Time Payment Plan
This plan allows you to pay a one-time fee of $1397 ONCE to get the complete suite of GrooveFunnels tools.
You no longer need to pay any monthly installment fees and can enjoy GrooveFunnels forever after this one-time payment (along with future updates and upgrades).
Taking any of the lifetime pricing options is actually the BEST deal, especially if you're planning to take GrooveFunnels for a long ride.
#3: DropFunnels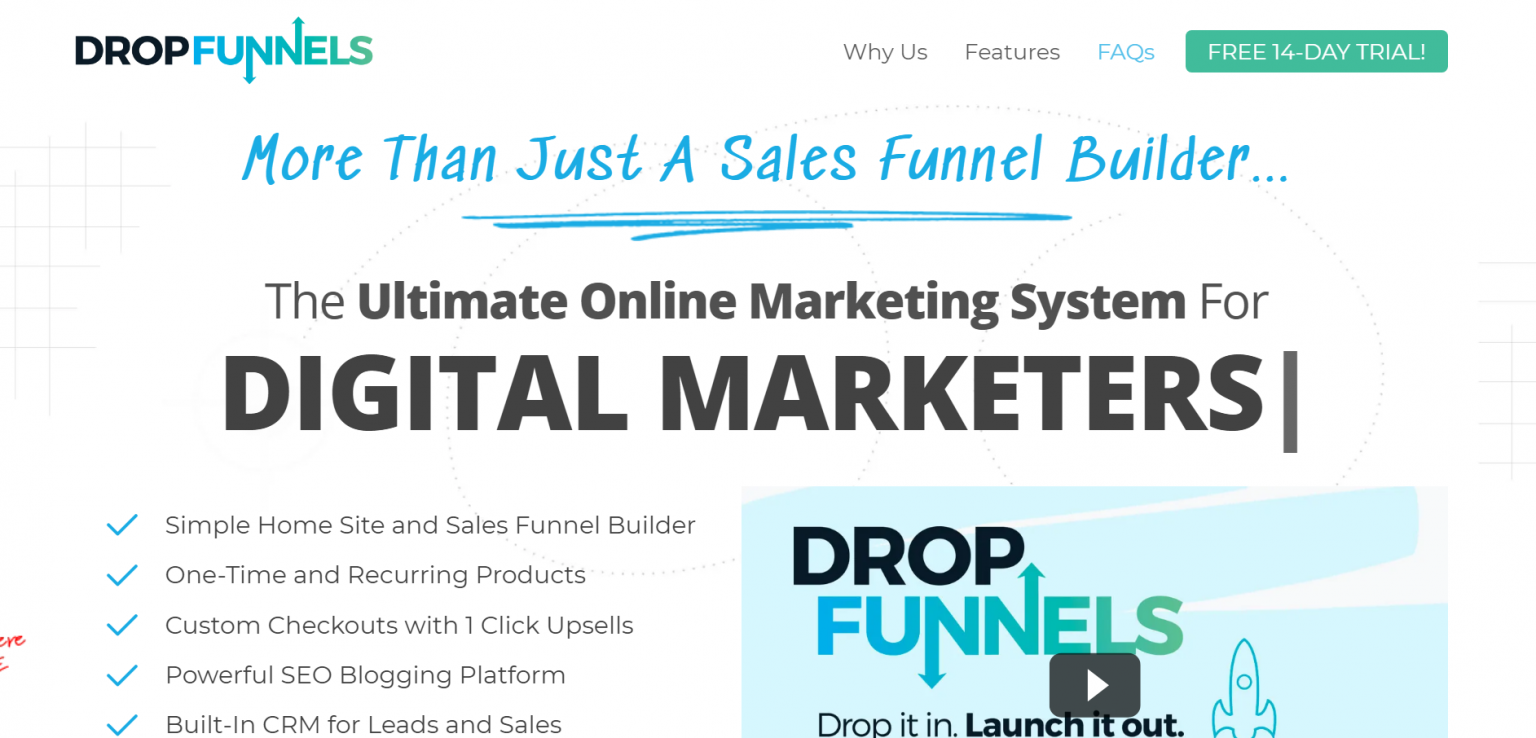 Dropfunnels is another ClickFunnels alternative and an all-in-one digital marketing solution for building sales funnels, authority websites, and blogs all your digital marketing needs.
However, it is one of the fastest-growing platforms and be referred to as the perfect combination of ClickFunnels and WordPress put together.
DropFunnels was built to replace the function of both tools and it has a wide range of beautiful features for online business owners to enjoy.
The platform was founded by Jordan Mederich who is an affiliate marketer and sales funnel builder with awesome years of hands-on funnel building experience on ClickFunnels but had several consistent technical issues while using it along the line.
It was these issues that led him to ditch ClickFunnels and build his own sales funnel building platform called DropFunnels.
With DropFunnels, you have a digital marketing system with features that help you build a:
Simple Website
Blog
Membership Site
Course
Lightning Fast Page
Lighting Fast Sales Funnel
And more
DropFunnels Features
Here are the features that make a newcomer like DropFunnels a worthy replacement to ClickFunnels.
Drag and Drop Page Builder
DropFunnels has an intuitive drag and drop builder that allows you to build landing pages, sales funnels, websites, blogs, membership sites, and more with zero knowledge of coding or any tech skills.
Instead of building from scratch, you get over 90+ templates to build your landing pages and sales funnel.
Using the drag and drop page builder, you can build highly-converting sales funnels to sell your products and services.
And you can also import sales funnels and share sales funnels you've built with others.
Website & Blog
DropFunnels also gives you features to build an amazing website and blog so you can build and launch your business with ease.
It comes with amazing themes that you can customize using the drag-and-drop page builder or you can build from scratch if you want.
You can also build a well-optimized authority blog for publishing your posts for your business, rank your blog in the search engines, and drive targeted organic search traffic to your blog.
Membership Sites
DropFunnels also allows you to build membership sites to host your courses and digital content online.
You can create membership sites where your students can sign up and get a special username and password to access your content.
DropFunnels also gives you the necessary tools to collect payments for your courses or membership sites and even create multiple membership sites.
SEO
This is one of the unique DropFunnels features you get out of the tool where you get to rank your website, blog, and even sales funnels in the search engines and rake in as much organic traffic as you want.
The platform provides all you need to rank in search engines with its in-built SEO functionality.
You are able to optimize your page titles, meta descriptions, XMLs, images, videos, and HTML sitemaps, connect your social networks, manage built-in schema options for rich snippets, and track everything about your site visitors with Google Analytics and more.
Link Tracker
DropFunnels has an in-built, simple link tracker that allows you to track any link, view the number of clicks your site gets, know the pages getting the most clicks.
You don't even have to pay extra to get an efficient link tracker like this.
Support & Community
DropFunnels gives you support as a user of the platform with a robust knowledge base and ticket support system on the site.
The knowledge base has useful answers to a lot of frequently asked questions on using the platform while you can get help from the DropFunnels customer support team on the DropFunnels official support page
Also, there's a DropFunnels Facebook group where you get community-based learning support. The Facebook group has over 3,600 active members on the Facebook group.
Affiliate Program
DropFunnels has an affiliate program that you can make a 30% monthly recurring commission on any plan you refer customers to.
You also get a chance to win additional prizes during special affiliate contests and DropFunnels would give you their own promotional materials for promotions.
You are also allowed to explore your creative side and create your own promotional materials as long as they are in agreement with the terms as stated on the DropFunnels affiliate program page.
DropFunnels Pricing
DropFunnels comes with a FREE 14-day trial along with TWO pricing plans suitable for low budgeters (half the price of ClickFunnels).
Here are the TWO DropFunnels pricing plans you can choose from:
DropFunnels Standard Plan for $49 per month
The plan is perfect for entrepreneurs, small online business owners, and low traffic site owners and you'll get the following features on this plan:
Unlimited Mobile-Friendly Pages
Unlimited Funnels & Funnel Steps
Custom Checkouts & 1-Click Upsells
Unlimited Membership Sites & Courses
Unlimited Landing Pages
CRM with Unlimited Leads & Contacts
Unlimited Blog Posts
Professionally Designed Themes
Payment Integration with Stripe
SSL Certificate
Custom Domain Mapping
Super Fast Page Load Speeds
Drag and Drop Visual Editor
Built-in SEO Framework
Built-in Link Tracker
Powerful Hosting Included
Up to 10,000 Visitors Per Month
DropFunnels Premium Plan for $147 per month
This plan is suitable for high-traffic businesses and sites and it comes with the following features:
Unlimited Mobile-Friendly Pages
Unlimited Funnels & Funnel Steps
Custom Checkouts & 1-Click Upsells
Unlimited Membership Sites & Courses
Unlimited Landing Pages
Unlimited Blog Posts
CRM with Unlimited Leads & Contacts
Professionally Designed Themes
Payment Integration with Stripe
SSL Certificate
Custom Domain Mapping
Super Fast Page Load Speeds
Drag and Drop Visual Editor
Built-in SEO Framework
Built-in Link Tracker
Powerful Hosting Included
Up to 250,000 Visitors Per Month
Final Words
So those are the best choice ClickFunnels alternatives that will give you features to build sales funnels and run your business.
If you need a replacement to ClickFunnels that's affordable and also gives you ALL the desired tools and features you need to run your online business, you can't go wrong with any of these three:
Are there other ClickFunnels alternatives that you'd love to try out?
Share your thoughts in the comment section below.